Southern Arc Reports High Grade Gold Drill Intercepts At Central Raja, Pelangan Prospect, West Lombok Property
Vancouver, B.C.: SOUTHERN ARC MINERALS (TSX Venture: SA)
("Southern Arc" or the "Company") is pleased to announce results from its first two holes of the Phase 2 drilling program at the Central Raja target, Pelangan Prospect.
Drillholes PLD001 and PLD002 intersected the Central Raja gold-bearing epithermal breccia zone at depth below the earlier shallow Phase 1 drillhole RDG01. RDG01 had returned an intersection of 10.70 m (true width 6.8m) @ 2.93 g/t Au (including 4.70m (true width 2.7 m) @ 5.80 g/t Au) previously reported. These new holes targeted depths of 60 m and 120 m below the RDG01 interval.
PLD001 and PLD002 intersected the following mineralized intercepts:
PLD001 4.85 m (true width 3.3m) @ 7.11 g/t Au 18.5 g/t Ag from 56.55 m(including 1.35 m (true width 0.9m) @ 16.67 g/t Au 17.0 g/t Ag from 56.55 m)
and
PLD002 17.25 m (true width 5.7m) @ 5.73 g/t Au 11.7 g/t Ag from 121.60 m(including 8.75 m (true width 2.9m) @ 10.51 g/t Au 20.7 g/t Ag)
Results from PLD001 and PLD002 support the concept of increasing gold grade with depth in
Central Raja
and confirm the existence of high-grade shoots within the system. They also highlight the need for further extensive deeper drilling at Pelangan.
"
These initial results of Phase 2 drilling are very encouraging and highlight the significant gold potential not
only at Pelangan, but also for the Mencanggah area. There, surface mapping and sampling of similar auriferous MSBs with an aggregate strike length in excess of 15 km have already identified a number of high priority drill-ready targets
…" commented CEO John Proust.
Pelangan Prospect
The Pelangan gold prospect is located in the northwest section of a 13 km long, northwest trending structural corridor of epithermal and porphyry mineralization. This district-scale field also includes the Company's Selodong porphyry copper/gold prospect and the Mencanggah epithermal/porphyry prospect (
Figure 1
).
Surface mapping and shallow scout drilling at Pelangan defined extensive, structurally controlled, epithermal gold-bearing breccia zones (termed Mineralized Structural Breccia or "MSB") occurring over an area of 3 by 2 km. Five major zones of mineralisation (Raja, Kayu Putih, Tanjung-Jati, Lala and Ratu) have been delineated, comprising an aggregate strike length of approximately 4.6 km.
Phase 1 scout drilling during 2006- 07 (51 shallow drill holes, 3,762 m) tested an aggregate strike length of approximately 3.5 km. Results from central and southern zones of Raja (
Table 1 and Figure 2
), southern Kayu Putih and portions of Tanjung-Jati confirmed continuous of zones of gold mineralization over strike lengths up to 900 metres.
Phase 2 of drilling commenced in August 2008. This program was designed to test for down dip continuity of mineralization, sustained vein widths and the potential for higher grades at depth
, (Figure 3)
. The Company is pleased to report very encouraging results from these first two holes on all three objectives.
The positions of the intersections in drill holes PLD001 and PLD002 are shown on the map
(Figure 2)
, and in the long section presented in
Figure 3.
Host rocks for the gold mineralized breccias comprise chlorite altered volcanic breccias and variably altered phyric andesites.
Drilling has identified a 'bonanza' episode within the Central Raja MSBs, characterized by significantly higher gold-tenor (generally >10g/t), low silver/gold ratio, and specific vein textures. Such bonanza episodes can localize within the vein zone to form high-grade 'ore-shoots' which can add significant ounces to a deposit within relatively small areas.
The importance of such ore-shoots in epithermal systems are well illustrated by such examples as the 'Crown Shoot' from the Cracow Mine (Central Queensland, Australia: Newcrest Mining) where 400,000 oz Au were inferred from an approximate 200 by 300m area; similarly the 'Royal Shoot' at Cracow added a resource of 390,000 oz Au from an irregular 100 by 470m plunging elongate-shoot. An extraordinary example is from the Kencana K1 ore-body at Gosowong (North Maluku, Indonesia: Newcrest Mining) which contained 1.8 Moz gold from a roughly ovoid shaped 260 by 500m shoot, (information from Newcrest Mining Limited website).
Early recognition of ore- shoot controls such as structural intersections, favourable host lithologies, and distribution of high-grade surface material will aid in determining the 3-dimensional geometry and hence targeting of the bonanza-event within the mineralised structural breccias. Southern Arc will use this information to aggressively target and define potential ore-shoots with the aim of quickly developing the gold resources at Pelangan.
Qualified Person and Quality Control and Assurance
The information in this release has been compiled under the supervision of Southern Arc's Chief Geologist, Andrew Rowe B. App. Sc. Geology, MAusIMM. Mr. Rowe has over 18 years of international mineral exploration experience throughout SE and Central Asia and Australia. During this time he has held such positions as Chief Geologist – Feasibility Studies, Senior Geologist and Consulting Geologist. Mr. Rowe has sufficient experience relevant to the style of mineralization under consideration and qualifies as a Qualified Person as defined in terms of NI 43-101.
All assaying of samples was undertaken by the ITS laboratory in Jakarta. ITS is one of the world's largest product and commodity testing, inspection and certification organizations. The Jakarta laboratory is ISO 17025 accredited and employs a Laboratory Information Management System (LIMS) for sample tracking, quality control and reporting.
On behalf of the Board ofSouthern Arc Minerals Inc
.
"
John Proust
"
Chairman and CEO
For Further Information Please Contact:
John G. Proust, Chairman and CEO
Southern Arc Minerals Inc.
Suite 1500, Box 1078, 885 West Georgia Street, Vancouver, BC V6C 3E8 Canada
Telephone: (604) 676-5241 Fax: (604) 676-5246
Email:
This email address is being protected from spambots. You need JavaScript enabled to view it.
Forward Looking Statements: This news release contains forward looking statements relating to expected or anticipated future events and operations, timing of projects and anticipated results that are forward looking in nature and, as a result, are subject to certain risks and uncertainties, such as general economic, market and business conditions, the regulatory
process and actions, technical issues, new legislation, competitive and general economic factors and conditions, the uncertainties resulting from potential delays or changes in plans, the occurrence of unexpected events, and the company's capability to execute and implement future plans. Actual results achieved may vary from the information provided herein as a result of numerous known and unknown risks and uncertainties and other factors. There is no representation by the company that actual results achieved during the forecast period will be the same in whole or in part as that forecast.

Neither the TSX Venture Exchange nor its Regulation Services Provider (as such term is defined in the policies of the TSX Venture Exchange) accepts responsibility for the adequacy or accuracy of this release.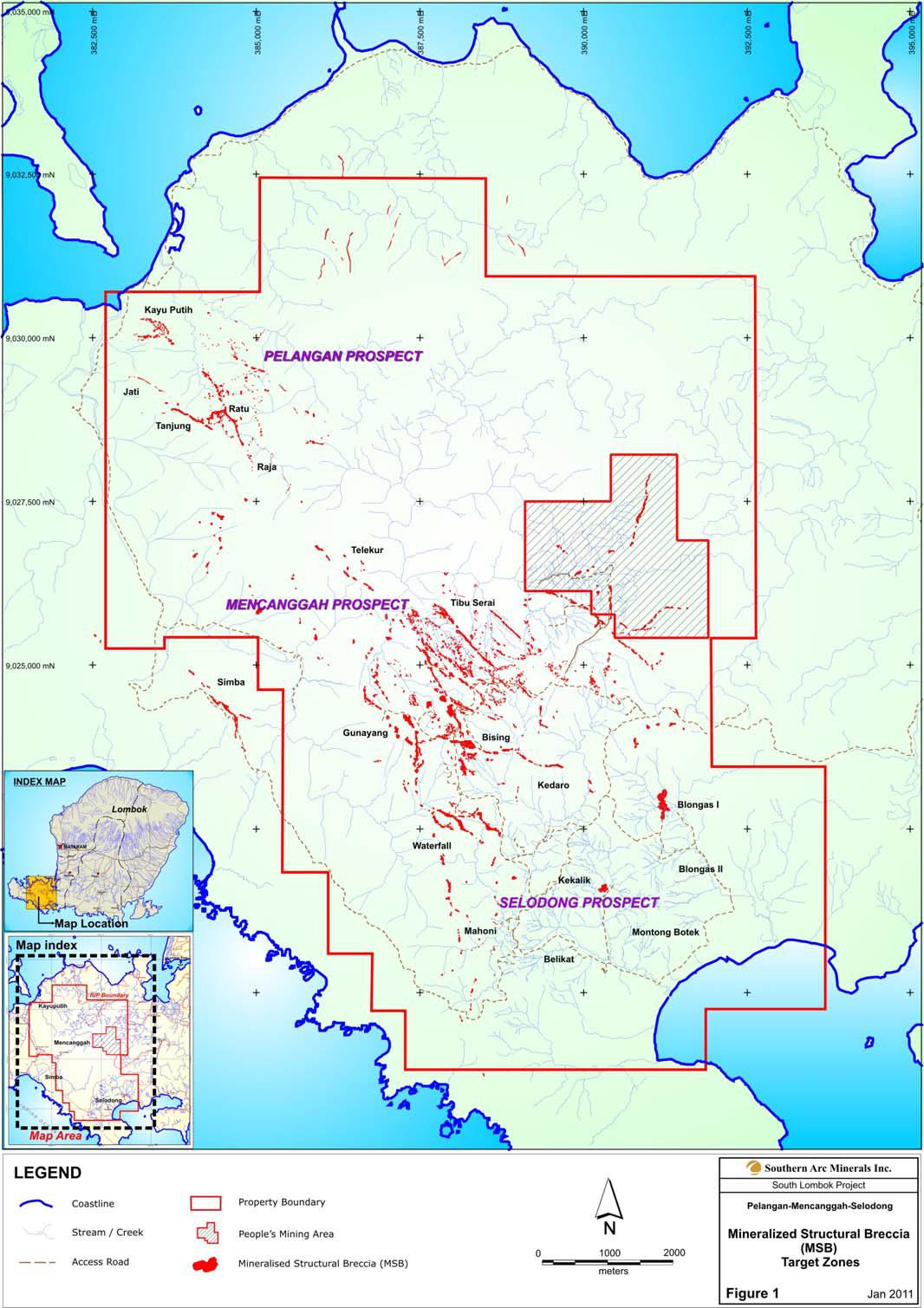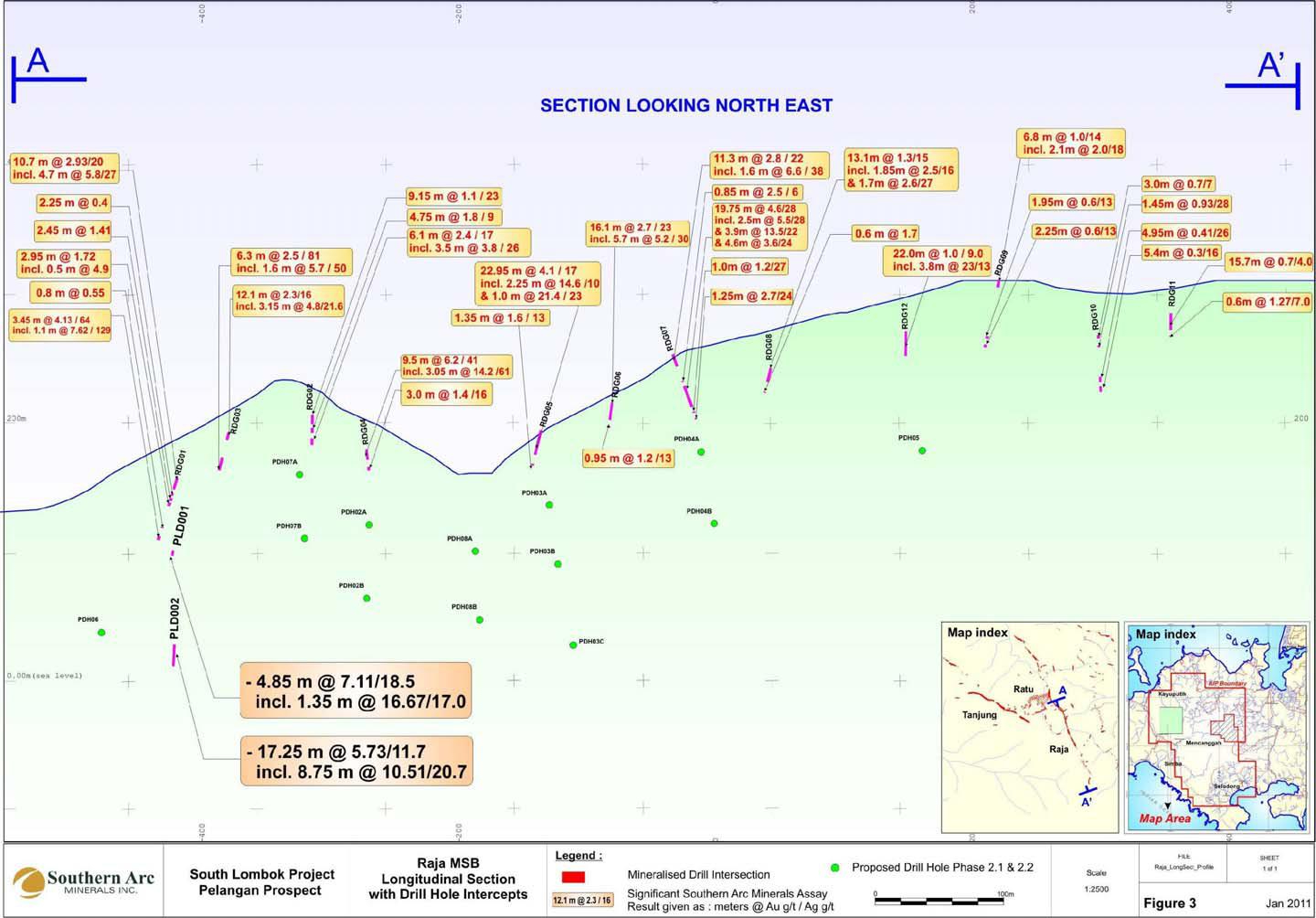 TABLE 1. PELANGAN PROSPECT – RAJA/RATU SIGNIFICANT DRILL INTERSECTIONS
HOLE ID


Grid


RL


Azimuth


Dip


Total


Interval


SIGNIFICANT


True


Depth


INTERSECTIONS


Width


(m)


(….°)


(….°)


(m)


Easting


Northing


(m)


( Au / Ag g/t )


(m)


6.30


-


17.00


m


10.7 m @ 2.93 / 20


6.8


(incl:


7.50


-


12.20


m)


4.7 m @ 5.8 / 27


2.7


29.80


-


32.75


m


2.95 m @ 1.72


1.7


RDG01


384,633


9,028,725


208


45


-55


66.50


(incl:


30.20


-


30.70


m)


0.5 m @ 4.9


0.3


61.65


-


65.10


m


3.45 m @ 4.13 / 64


2.0


(incl:


63.20


-


64.00


m)


1.1 m @ 7.62 / 129


0.6


17.90


-


27.05


m


9.15 m @ 1.1


/ 23


5.3


30.50


-


35.25


m


4.75 m @ 1.8 / 9


2.7


RDG02


384,683


9,028,632


230


70


-55


59.70


40.45


-


46.55


m


6.1 m @ 2.4 / 17


3.5


(incl


42.45


-


45.95


m)


3.5 @ 3.8 /26


2.0


0.00


-


6.30


6.3 m @ 2.5 / 81


3.6


(incl:


1.20


-


2.80


m)


1.6 m @ 5.7 / 50


0.9


RDG03


384,670


9,028,697


217


50


-55


58.80


23.20


-


35.30


12.1 m @ 2.3


/ 16


6.9


(incl


23.20


-


26.35


m)


3.15 m @ 4.8 / 21.6


1.8


8.35


-


17.85


m


9.5 m @ 6.2 / 41


5.4


RDG04


384,690


9,028,591


202


82


-55


48.00


(incl


12.25


-


15.30


m)


3.05 m @ 14.2 / 61


1.7


25.00


-


28.00


m


3 m @ 1.4 /


16


1.7


10.00


-


32.95


22.95 m @ 4.1 / 17


13.2


(incl:


20.70


-


22.95


m,


2.25 m @ 14.6 / 10


1.3


RDG05


384,733


9,028,459


205


50


-55


52.30


and


27.20


-


28.20


m)


1 m @ 21.4 / 23


0.6


41.75


-


43.10


1.35 m @ 1.6


/ 13


0.8


9.95


-


26.05


m


16.1 m @ 2.7


/ 23


9.2


RDG06


384,752


9,028,408


245


60


-55


53.70


(incl


10.80


-


16.50


m)


5.7 m @ 5.2 / 30


3.3


5.10


-


16.40


11.3 m @ 2.8


/ 22


6.4


(incl


9.10


-


10.70


m)


1.6 m @ 6.6 / 38


0.9


35.15


-


54.90


m


19.75 m @ 4.6 / 28


11.3


(incl


35.15


-


37.65


m,


2.5 m @ 5.5 / 28


1.4


RDG07


384,802


9,028,378


280


220


-55


74.10


and


40.55


-


44.45


m,


3.9 m @ 13.5


/ 22


2.3


and


49.50


-


54.10


m)


4.6 m @ 3.6 / 24


2.7


59.50


-


60.50


m


1 m @ 1.2 /


27


0.6


65.35


-


66.60


m


1.25 m @ 2.7


/ 24


0.7


RDG08


384,819


9,028,292


290


50


-55


75.20


42.80


-


55.90


m


13.1 m @ 1.3


/ 15


7.5


(incl


49.05


-


50.90


m,


1.85 m @ 2.5


/ 16


1.0


and


53.10


-


54.80


m,


1.7 m @ 2.6 / 27


1.0


RDG09


384903


9028142


327


50


-60


81


0


-


6.8


m


6.8 m @ 1.0 / 14


3.4


29


51


22 m @ 1.0 / 9


11.0


RDG12


384846


9028199


305


60


-60


90.1


incl. 3.8 m @ 2.3 /


(incl


47.2


51


1.9


13


QDG01


384,460


9,028,795


113


360


50


107.15


3.05


-


4.20


m


1.15 m @ 1.4


0.7


1.00


-


2.75


m


1.75 m @ 3.5


1.0


QDG02


384465


9028795


113


180


-55


70.10


64.50


-


65.85


m


1.35 m @ 2.1


0.8


QDG03


384,458


9,028,899


74


180


-55


54.50


42.55


-


44.10


m


1.55 m @ 1.9


0.9


51.25


-


54.95


m


3.7 m @ 2.3


2.1


384,492


9,028,922


78


150


-55


74.00


(incl


52.10


-


53.50


m)


1.4 m @ 4.9


0.8


QDG04


69.75


-


74.00


m


4.25 m @ 2.1 / 10.4


2.4


(incl


69.75


-


72.20


m)


2.45 m @ 3.2 / 16


1.4


QDG06


384,526


9,028,861


99


90


-55


55.60


28.80


-


29.80


m


1 m @ 7.36 / 186


0.5