Southern Arc Announces Additional High-Grade Intersections From Pelangan Prospect, West Lombok, Indonesia
August 24, 2011 – Vancouver, BC – Southern Arc Minerals (TSX-V: SA) ("Southern Arc" or "the Company") has encountered additional high-grade intersections at the Pelangan Prospect on its West Lombok Project in Indonesia and confirmed the presence of at least three structural zones with high-grade shoots. Step-out drilling continues to test the strike length and depth of the prospect.

The Pelangan Prospect is located at the northwestern extent of Southern Arc's West Lombok Mineral Belt, a 13-km by 7 -km zone of structurally controlled epithermal gold and porphyry copper-gold mineralisation that also includes the Mencanggah and Selodong Prospects. At Pelangan, over 5 km cumulative strike length of epithermal gold mineralised breccia lodes outcrop at surface and five major lodes of large mineralised structural breccia ("MSB") systems, the Kayu Putih, Raja, Ratu, Tanjung-Jati and Lala lodes, have been mapped and are the target for the ongoing Phase 2 drilling program.

"The latest results confirm that at least three structural zones within Pelangan have the development of high-grade shoots," said Dr. Mike Andrews, President and Chief Operating Officer of Southern Arc. "Drill hole PLD027 is particularly encouraging as it confirms high-grade gold mineralisation at depth and has also returned very high grades indicative of epithermal boiling zones within the system."

Gold assay results have been received for drill holes PLD024 to PLD027; silver assays are pending. Figure 1 shows the location of drill holes completed at Pelangan to date, and a long-section projection of drill hole mineralised intervals from the Raja target is presented in Figure 2. Drill hole locations, azimuths, dips and depths are summarised in Table 1. All intersections are reported as down hole intervals.

PLD027 on the Tanjung lode intersected two separate broad mineralised zones down-dip of Phase 1 drill hole
TDG05 (9.5 m @ 1.3 g/t Au and 45.0 g/t Ag) and returned the following intervals:
| | |
| --- | --- |
| PLD027 | 26.20 m @ 4.20 g/t Au from 167.20 m |
| | (including 1.30 m @ 30.1 g/t Au from 167.20m) (and 3.45 m @ 12.3 g/t Au from 189.15 m) |
| | |
| and | 15.15 m @ 1.0 g/t Au from 139.05 m |
PLD027 shows a significant overall increase in grade and width below previous shallow Phase 1 drilling at Tanjung and also contains narrow "bonanza grade" intervals (30 cm @ 75.0 g/t Au and 50 cm @ 41.4 g/t Au) in the reported broader mineralised interval. This mineralisation remains open at depth and along strike and the Tanjung lode has a confirmed strike length of at least 1.5 km.

PLD025 targeted South Raja MSBs between PLD022 and PLD031 (assay results awaited) and returned the following intervals:
| | |
| --- | --- |
| PLD025 | 15.00 m @ 1.0 g/t Au from 145.55 m |
| | 10.05 m @ 1.1 g/t Au from 165.30 m |
| | 1.30 m @ 4.1 g/t Au from 189.80 m |
These results show good continuity of the mineralised host structure and indicate that bifurcation of quartz veining into two broad lower -grade intervals has occurred. Drilling here is widely spaced and the higher-grade intervals further along strike in PLD022 indicate the potential for shoots open to depth. Recent mapping also indicates that the structure is open for considerable distances to the southeast beyond historical Phase 1 drilling.
PLD024 intersected the northern part of the South Raja lode 80 m below PLD019 (5.20 m @ 4.1 g/t Au and 10.3 g/t Ag, and 13.95 m @ 2.7g/t Au and 19.4 g/t Ag ), returning a narrow mineralised interval of:

PLD024 1.95 m @ 3.3 g/t Au from 223.85 m

PLD026, located to test the North Raja lode 110 m along strike from PLD018 (0.70 m @ 2.4 g/t Au and 2.7 g/t Ag), was unable to intersect the MSB target due to the intersection of a significant aquifer and was stopped at 77.6 m.

Assay results are still awaited from drill holes PLD028 to PLD033. Drill holes PLD034 to PLD038 were not able to reach planned targets as a result of the demonstrations previously reported by the Company on August 9, 2011, and will be resumed at a later date.

Southern Arc expects to resume full-scale drilling in September and will focus on high-priority targets at its Mencanggah Prospect before returning to Pelangan later in the year.

On behalf of the Board of Directors
"John Proust"

Chairman and CEO

About Southern Arc

Southern Arc Minerals Inc. is an Indonesia-based Canadian mineral exploration company with an aggressive exploration, acquisition and growth strategy. The Company's portfolio includes four exploration projects with epithermal gold and gold-copper porphyry prospects on the Lombok and Sumbawa islands in Indonesia, three of which are being advanced in partnership with major mining companies Vale and Newcrest. The Company's key exploration property is its West Lombok project, with several gold-rich copper porphyry and epithermal gold vein prospects. Southern Arc is listed on the TSX Venture Exchange under the symbol SA. More information is available at www.southernarcminerals.com or by emailing This email address is being protected from spambots. You need JavaScript enabled to view it..

Southern Arc Contact

Rhylin Bailie
Vice President, Communications & Investor Relations
Phone: 604-676-5241
Email: This email address is being protected from spambots. You need JavaScript enabled to view it.

Qualified Person and Quality Control and Assurance

The information in this release has been compiled under the supervision of Southern Arc's Chief Geologist, Andrew Rowe B. App. Sc. Geology, MAusIMM. Mr. Rowe has over 18 years of international mineral exploration experience throughout Southeast and Central Asia and Australia. During this time he has held such positions as Chief Geologist – Feasibility Studies, Senior Geologist and Consulting Geologist. Mr. Rowe has sufficient experience relevant to the style of mineralization under consideration and qualifies as a Qualified Person as defined by National Instrument 43-101.

The drill program and sampling protocol is managed by Southern Arc under the supervision of Andrew Rowe. The diamond drill holes are drilled at PQ, HQ and NQ sizes depending on hole depth and core recovery to date has averaged 98.0%. Half core is cut by rock saw and is generally sampled using nominal 1-metre intervals; however, sample intervals are varied according to geological contacts and have ranged between 0.2 to 2.5 metres in length. Three quality control samples (one blank and two standards) are inserted into each batch of 40 samples. The half core samples are securely transported from the project site to the Intertek Testing Services ("ITS") sample preparation laboratory in Sumbawa Besar via private truck hired by Southern Arc. Samplepulps are then sent to the ITS Jakarta laboratory by ITS. Gold is analysed by fire assay with AAS finish and a four-acid digestion with ICP-MS finish is used to analyse a full suite of elements including silver and base metals. ITS is one of the world's largest product and commodity testing, inspection and certification organizations. The Jakarta laboratory is ISO 17025 accredited and employs a Laboratory Information Management System for sample tracking, quality control and reporting.

Forward-looking Statements

This news release contains forward-looking statements relating to expected or anticipated future events and operations, timing of projects and anticipated results that are forward-looking in nature and, as a result, are subject to certain risks and uncertainties, such as general economic, market and business conditions, the regulatory process and actions, technical issues, new legislation, competitive and general economic factors and conditions, the uncertainties resulting from potential delays or changes in plans, the occurrence of unexpected events, and the company's capability to execute and implement future plans. Actual results achieved may vary from the information provided herein as a result of numerous known and unknown risks and uncertainties and other factors. There is no representation by the company that actual results achieved during the forecast period will be the same in whole or in part as that forecast.

Neither the TSX Venture Exchange nor its Regulation Services Provider (as such term is defined in the policies of the TSX Venture Exchange) accepts responsibility for the adequacy or accuracy of this release.
Figure 1 – Pelangan Prospect, Phase 2 Drill Hole Locations and Highlights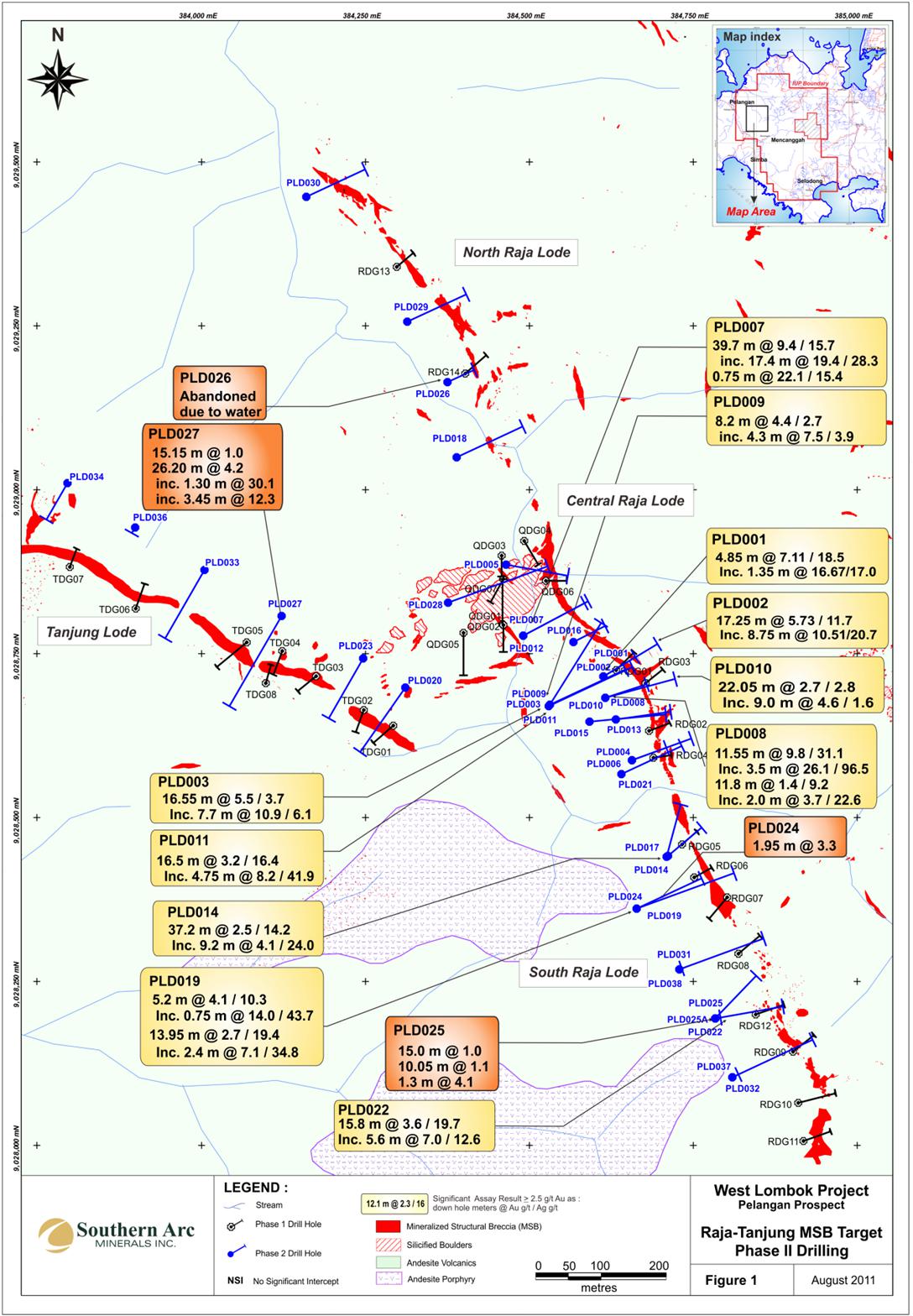 Figure 2 – Pelangan Prospect, Raja Target, Long-section Projection of Drill Hole Mineralised Intervals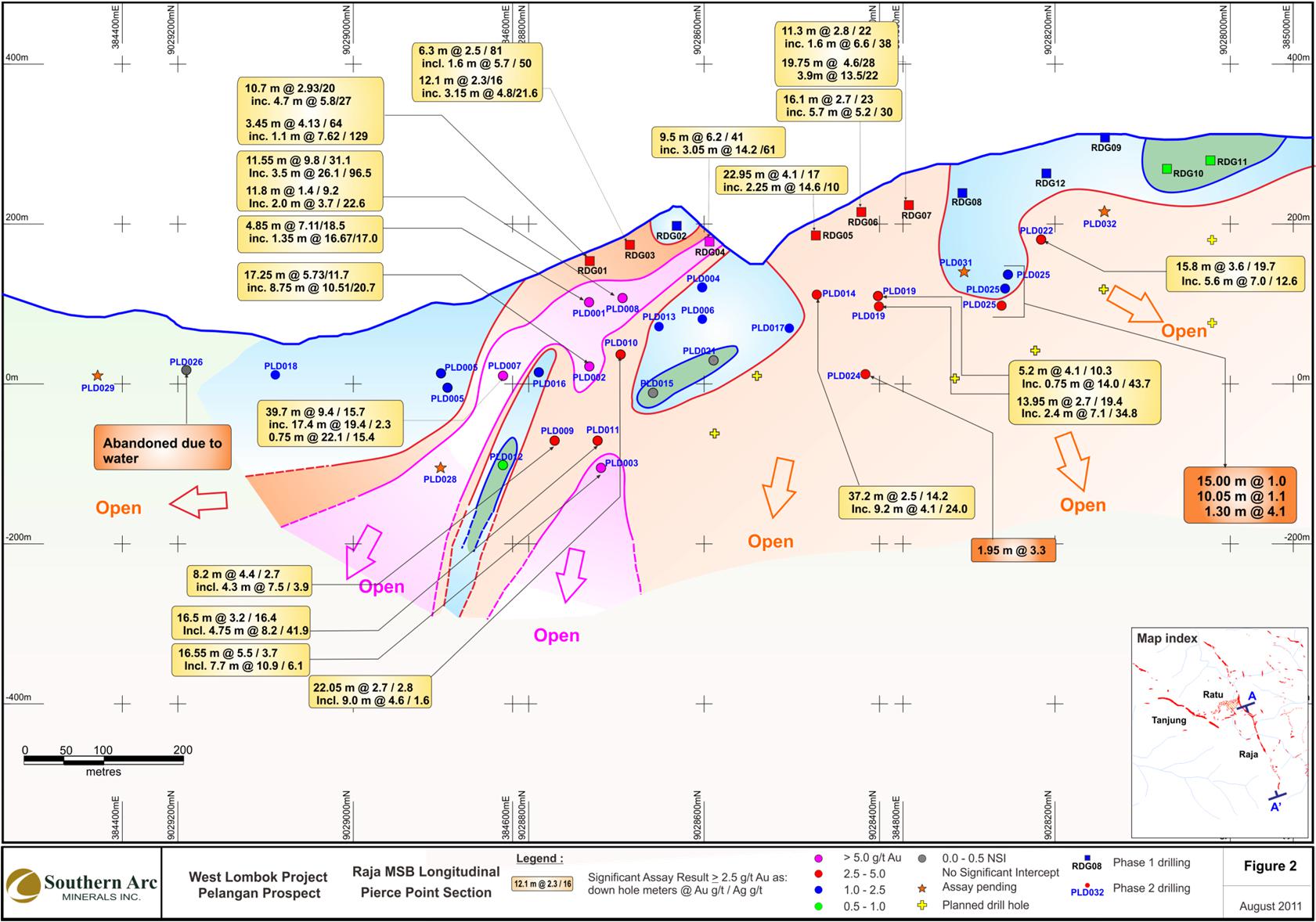 Table 1 – Pelangan Prospect, Phase 2 Drilling, Diamond Drill Hole Statistics
COORDINATE
EL.
AZIMUTH
INCL
FINAL
SIGNIFICANT
HOLE ID
UTM
(m above
STARTED
COMPLETED
DEPTH
INTERVAL
INTERSECTIONS
(N…°E)
(~°)
MSL)
(m)
(Au/Ag g/t)
E
N
PLD001
384577.0
9028692.0
144.8
59
-50
23/08/2008
03/09/2008
150.00
56.55 - 61.4 m
4.85 m @ 7.11/18.5
incl. 56.55 - 57.9 m
1.35 m @ 16.7/17.0
PLD002
384577.0
9028692.0
144.8
59
-75
04/09/2008
25/09/2008
221.80
120.15 - 137.4 m
17.25 m @ 5.73/11.7
incl. 121.6 - 130.35 m
8.75 m @ 10.51/20.7
PLD003
384530.9
9028672.1
120.4
65
-65
27/03/2011
11/04/2011
300.30
232.95 - 249.50 m
16.55 m @ 5.5/3.7
incl. 237.50 - 245.20 m
7.70 m @ 10.9/6.1
incl. 240.70 - 245.20 m
4.50 m @ 17.6/8.0
PLD004
384656.2
9028587.2
186.8
70
-50
27/03/2011
01/04/2011
150.00
79.25 - 90.20 m
10.95 m @ 2.00/34.0
incl. 88.70 - 90.20 m
1.5 m @ 5.6/166.0
PLD005
384463.8
9028885.9
71.6
100
-50
29/03/2011
08/04/2011
149.20
72.70 - 74.45m
1.75 m @ 1.15/4.9
and 92.90 - 94.85m
1.95 m @ 1.16/13.7
PLD006
384656.2
9028587.2
186.8
70
-68
01/04/2011
09/04/2011
149.00
110.05 - 126.20m
16.15 m @ 1.4/12.0
incl. 110.05 - 112.50m
2.45 m @ 4.7/34.0
PLD007
384490.0
9028777.6
77.6
62
-45
11/04/2011
27/04/2011
158.75
78.80 - 118.50m
39.7 m @ 9.4/15.7
incl. 78.50 - 96.20m
17.40 m @ 19.4/28.3
incl. 88.10 - 94.25m
6.15 m @ 37.7/26.0
127.70 - 128.45m
0.75 m @ 22.1/15.4
PLD008
384615.3
9028682.7
161.2
75
-45
15/04/2011
24/04/2011
156.00
70.35 - 81.90m
11.55 m @ 9.80/31.1
incl. 70.35 - 81.90m
3.5 m @ 26.1/96.5
93.70 - 105.50m
11.8 m @ 1.40/9.2
incl. 100.2 - 102.2m
2.00 m @ 3.70/22.6
PLD009
384530.9
9028672.1
120.4
32
-60
13/04/2011
26/04/2011
295.00
217.30 - 225.50m
8.20 m @ 4.4/2.7
incl. 217.30 - 221.60m
4.30 m @ 7.5/3.9
PLD010
384615.3
9028682.7
161.2
72
-70
24/04/2011
04/05/2011
195.00
127.35 - 149.40 m
22.05 m @ 2.7 / 2.8
incl. 140.40 - 149.40 m
9.0 m @ 4.6 / 1.6
incl. 140.80 - 142.20 m
1.4 m @ 11.5 / 2.3
PLD011
384529.0
9028670.0
117.0
65
-60
28/04/2011
10/05/2011
282.35
210.20 - 226.70m
16.5 m @ 3.2 / 16.4
incl. 211.50 - 216.25m
4.75 m @ 8.2 / 41.9
PLD012
384490.0
9028777.6
77.6
55
-70
01/05/2011
14/05/2011
310.10
108.80 - 11.60 m
2.8 m @ 0.5 / 5.4
188.50 - 194.50 m
6.0 m @ 0.5 / 2.0
PLD013
384631.4
9028649.5
184.3
82
-65
07/05/2011
15/05/2011
201.00
110.40 - 134.90 m
24.5 m @ 1.3 / 5.9
incl. 117.80 - 126.75 m
8.95 m @ 2.3 / 11.8