Southern Arc Continues to Increase the Size of Motong Botek Cu Au Porphyry Target With Longest Intercept to Date of 855.1 m
Southern Arc Minerals Inc. (TSX Venture: SA) announces the results of drill hole SLD023 at the Montong Botek target, drill hole SLD022 at the Blongas II target, and SLD021 at the Lapangan Geres target, all located at the Selodong porphyry Cu-Au prospect on west Lombok Island, Indonesia.
SLD023
, drilling the northern extension of the Montong Botek porphyry target, has returned the longest mineralized drill intercept on the property to date with:
855.10 m at 0.10% Cu and 0.22 g/t Au from 0.00 to 855.10 m

including: 242.00 m at 0.18% Cu and 0.41 g/t Au from 210.00 m to 452.00 m
and: 100.00 m at 0.26% Cu and 0.70 g/t Au from 278.00 m to 378.00 m


Montong Botek

The SLD023 broad intercept confirms continuity of Cu-Au grades at depth and indicates the mineralized strike potential further north. Drill hole SLD023, the second of two deep holes completed at Montong Botek, was located at the previous SLD013 drill pad to test an inferred northerly plunge of Cu-Au mineralization, as suggested from previous drill intercepts in holes SLD001, SLD002, SLD011, SLD013, SLD017 and SGD001.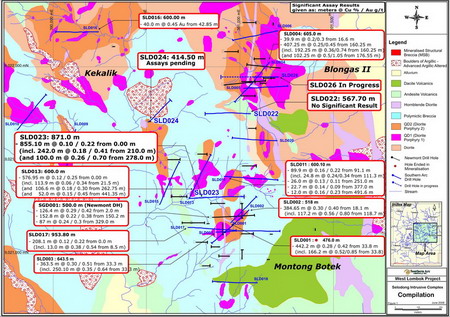 SA and historical Newmont drilling has partially defined an open-ended north-south elongate Cu‑Au mineralized zone of 450 m long by up to 200 m wide at Montong Botek. This north-south trending mineralized zone lies within an area defined by SA drill holes SLD011, SLD013, and SLD023 in the north and shallow Newmont drill holes PSG012 to PSG014 and PSG017 to the south.

SLD023 was drilled eastward at an inclination of -70 degrees to a depth of 871.0 m. From surface to a depth of 592.0 m polymictic breccia comprising mineralized quartz-diorite (QD1) and altered diorite clasts were logged. Narrow diorite dykes intrude the breccia between 364.0 to 366.0 m and 529.0 to 561.0 m. From 592.0 m until the end of hole altered volcanic and volcanic-derived sediments were encountered.

Blongas II

SLD022 was drilled 150 m south of SLD005 at Blongas II to test for potential southwest extensions of high grade mineralisation previously intersected in SLD004: 407.25 m @ 0.25% Cu and 0.45g/t Au, including 192.25 m @ 0.36% Cu and 0.74g/t Au (Figure 1). The drill hole rationale was based on elevated Cu-Au soil geochemistry at this locality. However, no significant mineralisation was intersected in the drill hole.

Lepangan Geres

SLD021 was drilled at Lepangan Geres, the most northerly porphyry target within the Selodong Intrusive Complex, approximately 7.5 km along strike of the same N-NW structure that hosts the Montong Botek and Blongas I-Blongas II porphyry targets. It comprises a north‑trending, open-ended 600+ m long by up to 300 m wide zone of discontinuously exposed porphyry stockwork and sheeted vein zones hosted within altered diorite porphyry intrusives and altered volcanics. The area is on the edge of a large circular magnetic "high" and at the intersection of regional N-S and E-W fault structures. Surface sampling has returned intersections including 80 m @ 0.22 g/t Au (incl. 20 m @ 0.11% Cu/0.30 g/t Au), 55 m @ 0.31 g/t Au and 20 m @ 0.33 g/t Au respectively.

SLD021 returned a low tenor Cu-Au intersection of:


142.55 m at 0.07% Cu and 0.14 g/t Au from 0.00 m to 142.55 m


SLD021 (Figure 2) was sited in the centre of the main diorite porphyry body to test shallow to moderate depth extensions of surface porphyry Cu-Au mineralization within the inferred north-south structural corridor.
SLD021 was drilled eastward at an inclination of -70 degrees to a depth of 521.00 m. From surface to 198.0 m intensely sheared, phyllic altered diorite porphyry intrusive hosting weak to moderate amounts of quartz-sulfide stockworking (QD2 phase) were logged. For the remainder of the hole (198.0 to 521.0 m) sheared volcanics and volcanic sediments were intersected. A late-stage diorite porphyry dyke was noted in core from 466.5 to 478.2 m. Overall, the drill core is highly sheared and fractured, typical of drilling across the structural grain of a major fault or fracture zone.
Qualified Person and Quality Control and Assurance
The information in this release has been compiled under the supervision of Southern Arc's Vice President of Exploration Hamish Campbell B.Sc.Geology, MAusIMM. Mr. Campbell has over 23 years of international mineral exploration experience including 21 years in Indonesia during which he has held such positions as Exploration Manager, Senior Geologist and Consulting Geologist. Mr. Campbell has sufficient experience relevant to the style of mineralization under consideration and qualifies as a Qualified Person as defined in terms of NI 43-101.
All assaying of samples was undertaken by the ITS laboratory in Jakarta. ITS is one of the world's largest product and commodity testing, inspection and certification organizations. The Jakarta laboratory is ISO 17025 accredited and employs a Laboratory Information Management System (LIMS) for sample tracking, quality control and reporting. In addition to the laboratory's quality assurance program, the Company employs its own comprehensive quality assurance/control program including blanks and standards, along with reassays of selective drill pulps by independent industry-accredited laboratories.
On behalf of the Board of
Southern Arc Minerals Inc.
"John Proust"
President and CEO
Southern Arc Minerals Inc.
Suite 1500, Box 1078, 885 West Georgia Street, Vancouver, BC V6C 3E8 Canada
Telephone: (604) 676-5241 Fax: (604) 676-5246 Website:
http://southernarcminerals.com/
"The TSX Venture Exchange does not accept responsibility for the adequacy or accuracy of this release"