Update On Lombok Island Property Exploration Activities
Southern Arc Minerals Inc. (TSX Venture: SA) is pleased to present the following exploration update on its Lombok Island property in West Nusa Tenggara Province, Indonesia.
The Lombok property, held under a Contract of Work (CoW) application, comprises two active blocks: West Lombok Project and East Lombok Project (see Figure 1). The CoW is currently in its third one-year extension period of the SIPP (Preliminary General Survey) license. The Company anticipates the preliminary round of negotiations on the new 7+ generation CoW agreement will commence late this month. Accordingly, the joint central government-provincial government CoW negotiating team has been appointed. It is hoped that the CoW can be finalized before the end of the year.

West Lombok Project (Figure 2)
This area was previously held by PT Newmont Nusa Tenggara, a subsidiary of the Newmont Mining Corporation. Through an agreement with Newmont, announced on January 11, 2006, Newmont relinquished the area and SA incorporated it into its CoW application area. Newmont has provided the results of its previous exploration of the area, and this has been incorporated into SA's database.

Pelangan Prospect (Kayu Putih, Tanjung, Radja and Ratu veins)
In the West Lombok Project, SA's field crews have, since mid-February, focused on high sulfidation epithermal vein targets at the Pelangan Prospect, Prospect evaluation programs thus far have involved initial prospect-scale flocculant BLEG sampling, followed by survey grid establishment, detailed geological mapping (at 1:500 and 1:2,000 scales), selective hand costeaning, rock saw outcrop sampling, and petrological studies. Scout drilling and ground CSAMT geophysical surveys will commence shortly.
The Kayu Putih and Tanjung veins were both known to be in the order of 400 to 800 m long, however surface prospecting by Southern Arc has extended known zones of vein mineralization in some cases by an additional 300 m to 400 m in strike length, and/or identified entirely new sub-parallel zones (Radja and Ratu Veins). Particularly encouraging are the possible high grade ore shoots in the east-west segment of Kayu Putih and in parts of the Radja and Ratu veins. In the case of Kayu Putih recent outcrop channel samples have returned:
6.8 m @ 22.43 g/t Au
0.9 m @ 34.60 g/t Au
2.7 m @ 7.1 g/t Au & 21 g/t Ag
Radja and Ratu veins surface intercepts have returned values to a maximum of 1.0 m @ 6.51 g/t Au & 31 g/t Ag, whilst 3 m semi-continuous chip samples have reported values to a peak of 34.1 g/t Au & 170 g/t Ag. A summary of geochemical results is shown in Figures 3(a) and 3(b).
Although controlling structures are easily visible as linear, or sigmoidal topographical highs, what is actual in situ versus subcrop vein material can be difficult to ascertain. Often the mixed zone of outcrop, subcrop and rubble material is 40 to 50 metres wide. For practical reasons SA will mobilize a small man-portable drill rig later this month to drill a series of shallow, scissored drill holes (40 to 60 m depth, termed "geo-drilling") to provide subsurface information on vein geometry and grade. This will later be complimented with ground CSAMT surveys scheduled for commencement in late July. Based on these results a subsequent scout drilling program of 1,000 m to 1,250 m is envisaged using a deeper coring man-portable drilling rig.
Simba Prospect and Bising Prospect (includes Mencanggah and Waterfall veins)
Surface evaluation programs consisting of geochemical sampling, geophysical and scout drilling are planned for each of these prospects. Each program is anticipated to take 3 to 4 months to complete. The Simba prospect is currently being evaluated. This series of programs is expected to be completed by early 2007.

Selodong Prospect
Newmont is providing its previous exploration data on the Selodong Cu-Au porphyry including the drill core (see Table 1 for highlights). Porphyry consultant Gerald Clark, FAusIMM, CPGeo will shortly undertake a 2 to 3 week review of the data and make relevant recommendations. At this stage it is anticipated only limited surface exploration activities will be required before drilling can commence (survey grid establishment, infill IP/resistivity geophysics). Two man-portable rigs capable of coring 100 m PQ, 350 m HQ and 500+ m NQ will be employed in the initial planned 7,500 m drilling program. The drilling program is scheduled to start early in the fourth quarter of 2006.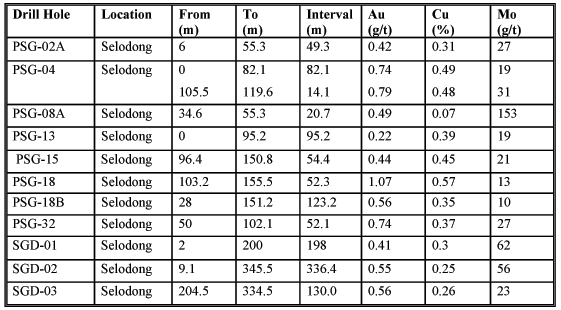 East Lombok Project
Awang Prospect
Surface mapping and sampling, accompanied by ground CSAMT surveying at the Awang Prospect, has identified a number of low sulfidation quartz vein swarms, some of which can be traced for up to 2.5 km in strike length, with widths of 3 to 8 metres. Highest Au-Ag grades (4.63 g/t Au & 110 g/t Ag) coincide with low temperature (<200º C) quartz forms which are subordinate to higher temperature (250-260º C) forms and higher Au:Ag ratios. At least 4 to 5 drill holes totaling 750 to 900 metres will test targets either late in the fourth quarter, or early in 2007, depending on water availability and target priority.

Exploration Opportunities
Apart from the above ongoing and planned activities, SA is also aggressively pursuing other mineral opportunities within Indonesia. Along with research of the potential of historical reported mineral occurrences, negotiations are continually being conducted with various governmental and private entities in order to acquire stakeholds, whether in the form of JVs, farm-in, or contract exploration agreements, in greenfields through to more advanced projects.

Qualified Person and Quality Control and Assurance
The information in this release has been compiled under the supervision of Southern Arc's Vice President of Exploration Hamish Campbell B.Sc.Geology, MAusIMM. Mr. Campbell has over 21 years of international mineral exploration experience including 19 years in Indonesia during which he has held such positions as Exploration Manager, Senior Geologist and Consulting Geologist. Mr. Campbell has sufficient experience relevant to the style of mineralization under consideration and qualifies as a Qualified Person as defined in terms of NI 43-101.
All assaying of samples collected by Southern Arc is carried out by the ITS laboratory in Jakarta. ITS is one of the world's largest product and commodity testing, inspection and certification organizations. The Jakarta laboratory is ISO 17025 accredited and employs a Laboratory Information Management System (LIMS) for sample tracking, quality control and reporting.

On behalf of the Board of
Southern Arc Minerals Inc.
"John Proust"
President and CEO
Southern Arc Minerals Inc.
Suite 1500, Box 1078, 885 West Georgia Street, Vancouver, BC, Canada V6C 3E8
Telephone: (604) 676-5241 Fax: (604) 676-5246
Web: http://www.southernarcminerals.com

"The TSX Venture Exchange does not accept responsibility for the adequacy or accuracy of this release"